Last Updated on August 10, 2020 by Janie Wilson
Every girl wants to look different and stunning on her special day. So, she always finds some trending wedding makeup ideas.
So here are some tips about makeup for bridal and wedding makeup tips for all girls. Wedding makeup ideas help to understand the latest trends in wedding makeup and hairstyles. Learn more about when to use Foundation and when to use Concealer.
Wedding hair and makeup both are important to give a stylish and different look. Bridal makeup is most important like her dress on the wedding day.
Wedding Makeup ideas
Choosing the perfect eye makeup is not an easy task but one can do it keeping in view her face shape and complexion.
Here we have 10 different and stunning makeup looks for you. You can see all and get the idea for your big day.  These are one of the best wedding makeup looks for brides.
Silver eyes with pink lips
This is one of the best makeup ideas for a wedding day. Silver eye makeup and pink lips give you a softer look on the wedding day. This is suitable for pink, white, gray, and silver colors dresses. Also check out our guide about the difference between Lipstick, Lip Gloss, and Lip Lacquer.
2.White liner and peach lips
If you want to get a cute look on your wedding day then try this one. Apply the white liner on the top of the lids by making the top lash line with black liner. Then apply the peach color on your cheeks and lips.
3.Smokey eyes with red lips
Red is the shade of the bride and it gives the brighter look on the wedding day.
This is the perfect makeup for the wedding day that will suit every bride.
Natural beauty with peach blush
This is a simple bridal makeup that makes the bride cute and pretty. You need to apply orchid color lipstick with a peach blush on and black eyeliner.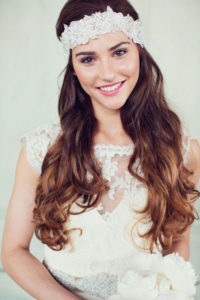 5.Bronze makeup for the bride
This is one of the most stunning and stylish makeup for the bride. You need to use this bronze shade on your lips with cheeks and eyes. This will create a complete magical bridal look on the wedding day.