Last Updated on September 8, 2020 by Janie Wilson
The latest and beautiful Arabic Mehandi designs for Girls in 2020 are simple, easy, and look very attractive. Mehandi is a famous and traditional fashion among girls for centuries. It is attractive as well as a painless way to beautify their hands. Recently, Arabic Mehandi designs have become famous than other ones.
Simple Arabic Mehandi Designs for Girls
Arabic Mehandi designs for girls are made simply with some flower patterns on hands and feet as well. We are introducing some new Arabic henna designs here to make your hands stunning.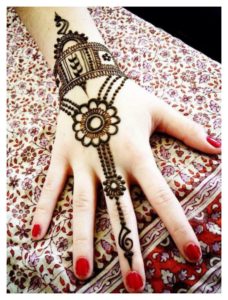 In these designs, Semi-Circular Borders, Flower, Single-stroke, Sunflower, and Glitter designs are included. Arabic Mehandi Designs are entirely different from other designs. This is due to their large and prominent patterns.
Arabic Mehandi design does not cover the full feet or full hand. Actually, the beauty and uniqueness of these designs rely on blank spaces. If you want to apply the Arabic Mehandi design on your hand, then it is not difficult.
For bridal, you need to consult a parlor or henna expert. If you want to make Arabic Mehandi designs, you can make it by watching some tutorials as well.
Mehandi is the favorite thing of almost all the girls. Therefore, they like it if there is an Eid occasion or a wedding ceremony.
The girl's preparation remains incomplete without Mehandi because henna makes their hands pretty. These latest designs are collected for girls. Hope they will like it.