Last Updated on June 27, 2022 by Janie Wilson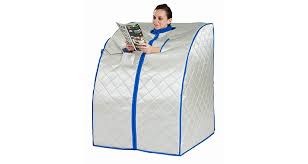 Best portable sauna reviews
So, you are looking for the best portable sauna reviews. But before we delve into the nitty-gritty of this, just tell me how you would like to describe your ideal day. Shouldn't it include at least a few hours, if not all day, of relaxation at your favorite spa? I know you would agree with me entirely and nod in approval. But the bitter truth is that while many of us enjoy going to the sauna every time we visit a spa, in our daily schedule, words like the "spa" and "sauna" remain far cry from our workaday life.
What if you could take the sauna home and enjoy all its benefits without going out? In this article, you will learn more about the best portable steam and infrared saunas for home use in 2020.
To begin with, visiting a paid spa as often as you like doesn't come cheap. It costs you a lot of money as well as valuable time. That's why people love the comfort and convenience that portable saunas can offer. Apart from providing the normal benefits of a sauna, the portable versions, as the name implies, are great for home use because they are truly portable and can be folded into a small packet for easy storage
10 Best portable steam saunas 2023
Keeping this in mind, we took a close look at some of the best saunas on the market and how they work.
Radiant saunas BSA6315 Harmony Deluxe Oversized Portable Cabin

This Radiant BSA6315 portable sauna has many advantages that few others have. It has five preset temperature levels that can be set between 113 degree F and 150 degree F with a thermostat, and it has an easy-to-use remote control with 6 timer settings.
It is equipped with 4 low EMF carbon fiber infrared heating panels and three-layer polyester fabric on the outside, which is supported by cotton insulation with strong seams to improve the panel's strength and resists moisture. The interior is spacious enough to allow you to enjoy the dry heat of the panels while sitting comfortably on the tough and durable 220-pound capacity chairs. This chair has a robust tubular steel frame, a comfortable canvas seat and also offers backrest for maximum support and padded armrests for extra comfort.
Other impressive features include zipper cuffs, a negative ion generator box to disinfect the sauna, 3 pockets (one large on the left and two small pockets on the right), a padded collar made of soft fluffy fabric that is closed with a Velcro fastener, and a footrest made of PVC carbon fiber that can be operated with the remote control. A 6.5-inch electric cable is long enough to give you the flexibility you need.
Pros
Ergonomic chair with upholstered armrests
Double internal/external zip closure for greater flexibility
Sewn-in pockets to hold the smartphone or remote control
Cons
Idealsauna Infrared FAR IR Ion Portable Indoor Personal Spa
If you still want to relax in a sauna in the comfort of your own home, the far-infrared Idealsauna by Durherm, which takes only five minutes to warm up, is a great choice.
This portable steam sauna saves space, so it can be used at home, especially where space is limited. It folds very quickly and is very easy to install. This portable sauna, equipped with cut-outs for hand and head, allows you to enjoy other things during your session. Three conductive heating devices and a carbon fiber heating element heat this sauna. With the remote control, you can set the temperature and timer according to your needs.
A negative ion generator keeps the air in the room cool and clean and the foot heating pad helps to heat the body faster. IdealSauna comes with a folding chair and weighs only 17.85 pounds, which makes it eminently portable.
Pros
Space-saving design
Folding chair
Only standard features provided, others like pockets are not included
Cons
Some might find it a bit pricey
3. Durherm Portable Therapeutic Home Steam Sauna
The Derherm Portable Personal Steam Therapeutic Spa Home Steam Sauna is equipped with a steam generator that produces up to 800 watts of steam power. This is quite impressive for home use. With such power, you can expect awesome results.
If you are a multitasker, you'll love the zippered pockets you can reach to read your favorite book or use your phone while your body is enjoying the hot steam. The headrest is quite comfortable on your neck thanks to the padding that surrounds it.
We love the fact that it heats up in such a short time and reaches a maximum temperature of 113°F. The only challenge will be to regulate the heat when it gets too high. We also noticed that there is no ventilation to get rid of the excess heat. This can quickly become dangerous, so you should keep an eye on the body heat you are receiving.
Pros
Provides 800 watts of steam power
It weighs only 11 pounds, which makes it very portable
Easy to install and use
Cons
The heat regulation is not adjustable
No ventilation to remove extra heat
4. SereneLife Portable Spa One Person Sauna for Detox and Weight Loss
This infrared home spa is one of the best personal steam saunas you can comfortably use to enhance your well-being.
It is integrated with low-carbon  EMF fiber heating panels, whose settings can be easily adjusted with a remote control. You can set it up to a maximum temperature of 140 degree F for a maximum time period of 60 minutes, but it only takes 10 minutes for your skin to feel the effects of the heat.
It has an amazing design with a main front opening and two zippered hand openings, as well as a breast pocket for the remote control. The package also includes a very comfortable foldable chair and a doormat. It's incredibly light and weighs only 20 pounds when folded, and at the same, installation is damn easy.
Pros
Zippers can be closed when not in use
Very light weight
Cons
5. Radiant Saunas BSA6310 Rejuvenator Portable Sauna
The Radiant BSA6310 is an elegant gray sauna and, like the others in this series, is equipped with 3 ETL-approved, low-EMF carbon fiber heating panels. This polyester spa tent has a double main zipper that allows it to be easily opened inside or outside and also has sewn-in pockets to store the remote control and other items.
Its remote control is designed to operate the 6 available timer settings and the 5 temperature levels up to a maximum of 150 degree F. Its well-designed 180-lb seat with tubular steel frame, canvas base and backrest makes it not only durable but also very comfortable.
Other important features include a neck collar padded and lined for maximum comfort and a 6.5 foot power cord. Plug it into a 120V outlet and you're ready to go.
It is equipped with a pocket in which you can put your phone or medicines
Comes with an ergonomically padded armrest and a cross support
It has a soft, padded collar
6. Blue Portable Therapeutic Personal Steam Sauna Spa with Herb Box
WYZworks personal steam sauna has a unique quality. For, it offers you the privilege of using the sauna on your face. It comes with a head cover that allows you to immerse your face in the heat of the spa along with your whole body.
Another important feature that distinguishes it from other sauna tents is its herb box. It is filled with lavender and chamomile, among other things. This gives you the opportunity to refresh your system with the health benefits of these herbs while you continue your session.
This sauna has a steam pot that holds 2 liters of water. For your safety, the WYZworks Personal Steam Sauna is equipped with a sensor that displays the water level and automatically turns off when the water reaches a critical level. The WYZworks Personal Steam Sauna comes with a folding chair for easy storage.
Pros
Has an automatic shut-off system when the water level drops
Comes with a head cover and a box of herbs
Cons
You still need to install the sauna each time you want to use it. It is not easy to set it up
7. OppsDecor Portable Steam Sauna Spa
This mobile steam sauna can be placed literally anywhere you like. It is fully portable and removable, so it can be easily stowed away in even the tightest of spaces.
It also comes with a 135 pound folding chair, a 2 liter steam generator and a handheld remote control. The portable remote control has 6 automatic timer options that allow you to select the length and the amount of heat which you can regulate according to your preference.
Pros
Well sealed to prevent heat loss
Heats up quite quickly
Double zipper for comfortable use
Easy to follow implementation steps
Cons
The included foldable chair can be a bit uncomfortable, but you can always replace it with a normal chair
8.

AW 2L Portable Steam Sauna Spa
This is another eminently affordable portable steam sauna offered by AW. What you will like most is the ability to adjust the temperature and timer. It offers nine temperature levels and six timer settings, allowing you to choose from a variety of options that you can adjust to suit your comfort, convenience and preferred heat and steam experience. A cotton blanket with a waterproof layer keeps the steam warm inside the sauna.
This portable steam sauna helps you to detoxify, relax and get rid of fatigue, and assists you in your quest to lose weight. Because it is a steam sauna, you can add your favorite essential oils or herbs and flowers and enjoy the benefits of aromatherapy in addition to sweating in the sauna.
When you have done with it, the frame is removable and can be folded into a small package for easy transport and storage. It comes with a folding chair, a foot massager for even more benefits and a remote control so you can adjust the heat and timer without leaving the sauna.
Pros
Highly adjustable with nine temperature settings and six timer settings
Supplied with a foot massager
Offers a compact package
Affordable and valuable
9. Durherm Infrared Low EMF Negative Ion Portable Sauna
When it comes to domestic spas, Durherm is known for its top quality products. If you're in serach of the best infrared sauna tent, this portable infrared sauna from Durherm is unsurpassed.
It is virtually EMR/EMF free as it is designed to emit the lowest levels of EMF and independent tests have shown that it emits very little EMF. Although it is rather expensive, you can be assured that you will not be exposed to harmful radiation levels, and it also offers exceptional features not found in other portable saunas.
It has a far infrared heater that consumes very little electricity, but instead of the usual carbon fiber panels, it uses 3 tourmaline heating panels. It emits negative ions and tourmaline, a semi-precious mineral, also has detoxifying properties. It is spacious for a comfortable experience, whatever its size. When not in use, it folds easily into a compact package. It is easy to carry and fits into small storage space.
In terms of performance, this is a top-of-the-line personal sauna. Owners love the simplicity of the furniture and interior space. Users have experienced all kinds of benefits, from detoxification, relaxation, beauty, better sleep to relief from joint and bone pain.
Those who have tested EMF emission have confirmed that it is truly minimal and safe. It comes with a foot heating pad, a folding couch, a manual temperature and time regulator, two washable collars and a user's manual.
Pros
Safe application at extremely low EMC values
Emits far-infrared heat and negative ions
Tourmaline panels help detoxify
A spacious interior
Has washable neck collars
Cons
A bit expensive than others on the market
10. Durasage Lightweight Personal Steam Movable Sauna
If you are in search of a highly portable steam sauna and your budget is tight, this is another interesting and affordable option. The interior of the sauna becomes extremely hot and humid and offers the same experience and benefits as steam cabins, but with the comfort and privacy of your own home.
Your body sweats out toxins, stress and other unwanted elements and your body and mind feel relaxed and rejuvenated. The other benefit of a home steam sauna is that you can add aromatherapy oils and herbs and enjoy even more health benefits. It is extremely light and portable, so it can be installed anywhere and a strong structure keeps it tight and durable.
It comes with everything you need to get it up and running. Just add a seat and towels to clean the condensation. It's very easy to install and filling it with hot water instead of cold water speeds up the heating process.
Pros
Quick to install and easy to use
Very light and easy to move
Robust structure for stability
An affordable sauna at home
There are two main types of portable saunas:
Portable Steam Saunas
These saunas heat the body with steam that can reach up to 194 degree F, the maximum temperature set by the U.S. government.
Portable Infrared Saunas
These devices use heat waves generated by panels built into the sauna, which penetrate the skin and make the body sweat. They are usually heated up to 140 degree F and can produce dry heat.
Here are some of the most important factors to consider if you want to get the best portable saunas that we have tested and tested below.
Maximum Temperature
Make sure that the maximum temperature of the sauna meets your needs, especially if you intend to use the highest level of heat.
EMF Classification
Low electromagnetic compatibility saunas are the best option because a higher electromagnetic force produces a lot of radiation which is hazardous for human health. Those with carbon panels are considered the best option in this regard.
Seat quality
A comfortable seat makes your sessions hugely pleasurable. Besides,  a foldable seat makes it easy to carry and store.
Remote control
This is an important operational aspect of the sauna. You would definitely like to control the temperature and timer without leaving the sauna.
Weight
The word portable means exactly that. For, there's no point in having a sauna so heavy that you can't move it at will. It's surely without logic, isn't it?
Best Portable Sauna Reviews
Wrapping up
I am sure after going through this detailed post, you would have a lot of food for thought regarding the kind of portable sauna you would need for your home. Surely, you need the best portable sauna, whether steam or infrared, that suits your needs. Because buying a sauna is a great investment, make sure you do it correctly. That way you can get the most out of your investment. Use this detailed post on portable sauna reviews to select what you need most for your home and don't go about asking people which might add to your confusion.